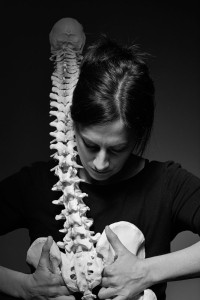 Lesley Greco osteopathic research writer, consulting, movement education

Lesley works in the fields of rehabilitation, movement education and performance as a practitioner, artist, teacher and researcher. Lesley's osteopathic and movement research focus is the concept of physical listening.
She was introduced to the discipline of listening as an art practice by pioneering composer Pauline Oliveros (1932 – 2016). Lesley studied and mentored with Oliveros translating her aural listening strategies into a physical listening focus applying it to movement, voice and bodywork. Lesley's essay on physical listening is included in The Anthology of Essays on Deep Listening and was published in May 2012.
Contact Improvisation (CI) has been a key part of Lesley's movement practice since being introduced to it in Toronto, Canada in 2001. Her main interests in CI are the subtleties and the physiologies of physical listening and dialogue. As a teacher, Lesley translates osteopathic principles and current interpersonal neurobiological research into functional skills aimed at developing a respectful, cooperative, listening relationship with our own bodies and in turn, with each other.
Lesley began teaching CI in 2009 assisting choreographer/dancer/activist Pam Johnson at Humber College School of Performing Arts teaching CI to physical theatre students from 2009-2011.
The movement disciplines of contemporary dance, improvisation and flamenco have been foundational to all aspects of Lesley's practice.
She has been a guest lecturer for graduate and undergraduate classes at the University of Guelph School of The Arts and has facilitated groups at Humber College, Ryerson University, York University, Halliburton School of the Arts, Leviathan Studio (BC), as well as teaching privately and in her local communities.
A many years long mentorship with singer/teacher Fides Krucker has been formative to Lesley's understanding of body and expression. Other teachers and mentors that have contributed immeasurably to her life include; Dr. Clarissa Pinkola Estes, Bonnie Gintis DO, Sr Jane McDonell, Nancy Stark Smith, Bonnie Bainbridge Cohen, Irene Dowd, Margie Gillis, Ruth Zaporah, Katherine Duncanson, Esmeralda Enrique, and Carmen Romero among others.
Lesley is an active member in good standing of the College of Massage Therapists of Ontario (CMTO) and the Ontario Association of Osteopathic Manual Practitioners (OAO). She maintains a partnership with C.A.D.A. to support professional dancers in their health care management.