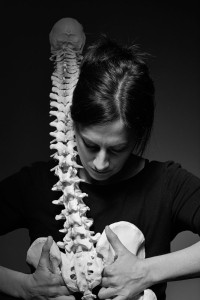 Lesley Greco RMT, CST, Osteopathy (research writer)
Graduating with academic honors from the Canadian College of Massage and Hydrotherapy, Lesley has been in practice as a Registered Massage Therapist since 1996. She has worked in the field of rehabilitation, sports medicine and performance as well as within medical facilities such as The Center for Addiction and Mental Health and the Addiction Research Foundation in Toronto.
She has completed advanced certification in craniosacral therapy and has been a teaching assistant to Robert Harris for introductory through to advanced craniosacral training courses.
Following 5 years of osteopathic training at the Canadian College of Osteopathy in Toronto Lesley is working toward completing her thesis research.
Beginning in 2009, Lesley apprenticed as a teaching assistant at Humber College School for the Performing Arts under the mentorship of Fides Krucker for voice and Pam Johnson for movement/contact improvisation. During her time at the college Lesley researched the relationship between manual bodywork and physical expression in the classroom and privately with the staff and students. Influenced by her experience at the theatre school, she developed a group class approach to working with the body through breath, movement and craniosacral practices.
In 2007/2008 Lesley was involved with the certificate program at the Deep Listening Institute under the mentorship of composer Pauline Oliveros, author Ione and dancer Heloise Gold. She studied Dr. Oliveros ground-breaking work on the practice of listening. Lesley's essay on physical listening is included in The Anthology of Essays on Deep Listening and was published in May 2012.
Lesley maintains a partnership with C.A.D.A. to support professional dancers in their health care management.