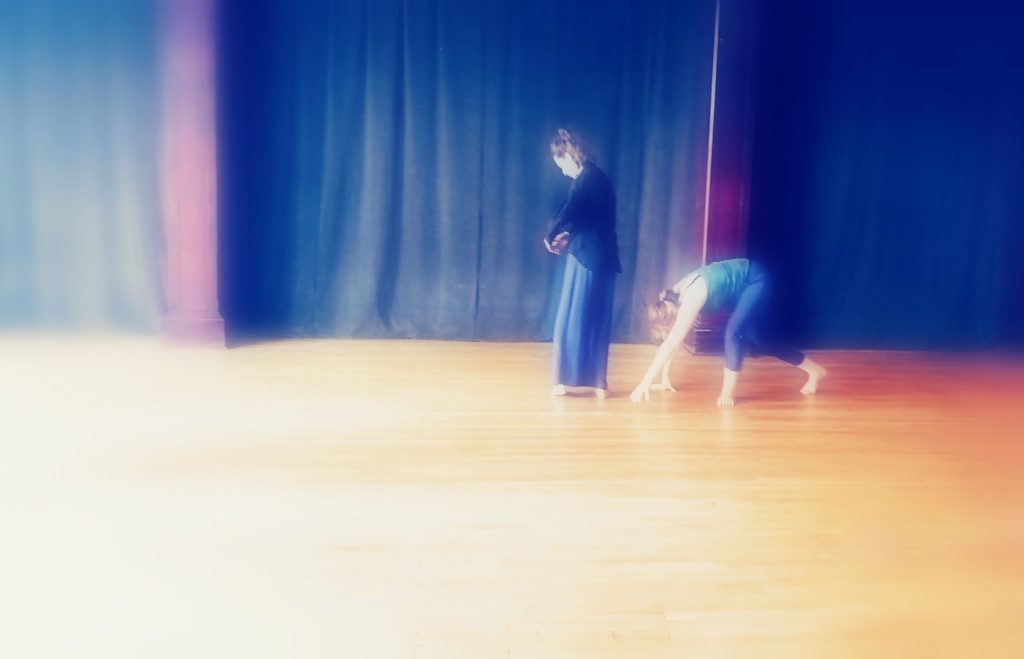 The light in the studio is low and the door to the fire escape is wide. I'm watching someone – they've been standing, quietly facing the door for quite some time. Their body, like an ocean, is swooning and rolling just under the skin. Breath moving body from the inside out. I move to stand nearby and we sway together in this slow-moving night air. Behind me and to my left, a third person joins. I don't see them but I know who it is, they are unmistakable, full of gravity and lighting. We three standing in this loose triangle at the edge of the studio.
Three bodies grown in different soils at different times in history. Each of us are made up of similar parts yet different in composition and expression. If we look at the way our spines have been shaped we can easily see the parts are similar but the ways that they move together as a whole is entirely original. Take, for example, the way as babies we tilted our head towards our caregivers, who tilted their heads in their own peculiar ways. The food made in the homes we grew up in, in the cultures we were born to. The fall from the bed, the love of climbing trees, or playing basketball, or reading books or studying snails. The nature of the people who surrounded us, who shaded us or who allowed us certain kinds of light.[i] We are ecosystems. We would have to draw on multiple ways of perceiving to take in the shape of this spine and the body it moves within as we stand here listening and breathing together tonight within the gravity that holds us to this plant. There are at least 8 billion ways to listen.
Once born, moving and breathing in gravity are among our first experiences. We all share similar anatomies for moving and breathing. We all develop movement relationships between the diaphragms of our bodies, our spines, our gravity response systems, our expressive systems etc. These functional anatomies cannot be separated out from our psychology, our spirituality, our sexuality, our relationships, environments and so on.
What if we considered breathing as a relationship? What is the relationship between your movement and your breath? How do they influence, inhibit and support each other? Is breathing a thing to be manipulated according to some imposed ideal of how our breath should be moving?
There is no right way to breathe but there are principles that can support us in developing adaptive, responsive breathing that can move as freely as possible through our bodies according to the constraints, opportunities and necessities of the moment.
I invite you into the studio and into my shared research practice with Claire Turner Reid to explore some principles for moving and breathing with ease, curiosity and pleasure.
MOVING AND BREATHING
A workshop with Claire Turner Reid and Lesley Greco
Date: SATURDAY May 27, 2023
Time: 1pm – 4:30pm
studio is on the 3rd floor with elevator access available
Cost: before May 19: $125, after May 19: $160
*if funds are limited, please reach out to us and we will work something out
Through information sharing, guided improvisations, individual hands-on attention, movement scores and motifs we will inhabit our breathing-bodies in motion and stillness.
We will look at some functional anatomies of breathing, the diaphragms, the curves & ranges of motion of the spine – all through the lenses of Claire's application of the Axis Syllabus and Lesley's Osteopathy inMotion practice.
This workshop is based on Lesley and Claire's many-years-long dialogue of shared interests in moving, listening, learning and adapting. We look forward to sharing with you!
Claire Turner Reid: Claire is a movement artist and educator in Dance, Axis Syllabus, and Chinese Internal Arts. She uses movement and healing practices to deepen awareness, honour the integrity of the body, and enrich inter-relational possibilities. Claire is a Certified Teacher with the Axis Syllabus International Research Meshwork, faculty at the Ontario College of Traditional Chinese Medicine, has a Diploma of Acupuncture from OCTCM Toronto, and is a member of Spiritwind Internal Arts where she trains & teaches Qigong, Taijiquan, Baguazhang, and Kung fu. Claire loves engaging with various communities and is inspired to continue sharing, learning, and transforming through movement. www.claireturnerreid.com
Lesley Greco: As an osteopathic practitioner and interdisciplinary artist, Lesley has a special interest in bridging osteopathy and movement principles in both her clinical and studio practices. Lesley has been a manual practitioner (RMT, CST) since 1996 and completed five years of academic and clinical training at the Canadian College of Osteopathy in 2019. She successfully defended her research dissertation An Osteopathic Concept and Practice of Listening in 2021. Lesley is currently part of an intensive teacher training in Fides Krucker's Emotionally Integrated Voice method (EIV) where she is investigating relationships between voice, breath, movement and osteopathy. Rooted in practice-research, her work is devoted to learning, sharing and creating through listening based, cooperative, body-informed processes.
---
[i] Analogy shared by Rollin Becker D.O. in his book Life in Motion (R. E. Brooks, 1997)