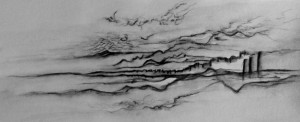 The school kids are pouring now out of the main house and rolling down the hill toward me like lava. Like chickens let out of the coup clucking and clattering. They are collecting in the field around my little cabin by the dozens to chase balls and each other.
Cacophony.
The birds that were resting so still just on the other side of my screen porch lift off in a flurry. Chaos ensues. And here I am, in the middle of it, writing about stillness.
What is interesting to me about stillness is that it is not what it appears to be at first glance. Stillness is not inertia.  It is not anti-motion, in fact, stillness is not separate from motion. Consider the eye of the hurricane, an extraordinarily still center around which this massive force of nature organizes.
You are no different.
The cells of the embryo, in its first hours and days can be seen madly dividing in what seems like wildly chaotic movement, however, this is not the case.
The dividing cells are moving around a still point, a fulcrum, a center of organization. We, our bodies, organize around stillness.
This is so from the first moments of life to the last.
The sounds of the kids are sharp and high and full of life. My little cabin is in the center of all of their motion. I'm sitting right in the eye of the storm.
It has me thinking.
Sound is motion, vibration.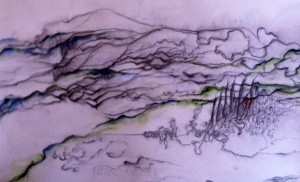 Perhaps then the silence is like stillness.
The paintings included here are not landscapes but soundscapes. The lines are representing the motion of the sounds in my environment that I hear rising and returning to stillness.
If all sound rises out of silence and returns to silence then perhaps the silence, the stillness can be likened to a blank canvas and the sounds, the gestures or lines and swirls and colors.
The stillness, the canvas, is what holds or contains all the motion and also what organizes it.
As I listen now for the scraps of silence or still points within this storm of school children, something interesting is beginning to happen. I find my body is coming into a state of stillness. I recognize it as a felt sense, what for me is something like a soft rain just under the skin. My eyes are deeper into their sockets and my vision is clear. I feel the rocking motion of my breathing which has become very easy and quiet. I am comfortably seated in my body and my body is awake. The stillness in me has found resonance with the stillness around me, regardless of what is swirling about. It is a very potent position to be in.
Not inertia. Stillness.
The kids have cleared out and an extraordinary quiet has settled in and around the cabin. Everything is moving within its own rhythm. Songbirds just outside again. The waves of the lake swelling and falling.
Stillness at the center of everything
Lesley is once again accepting new patients/students in her private practice near the Junction in Toronto. Stay tuned for upcoming classes for bodywork practitioners focused on resilience and sustainability in the field of bodywork. You can contact her here: https://lesleygreco.com/contact/